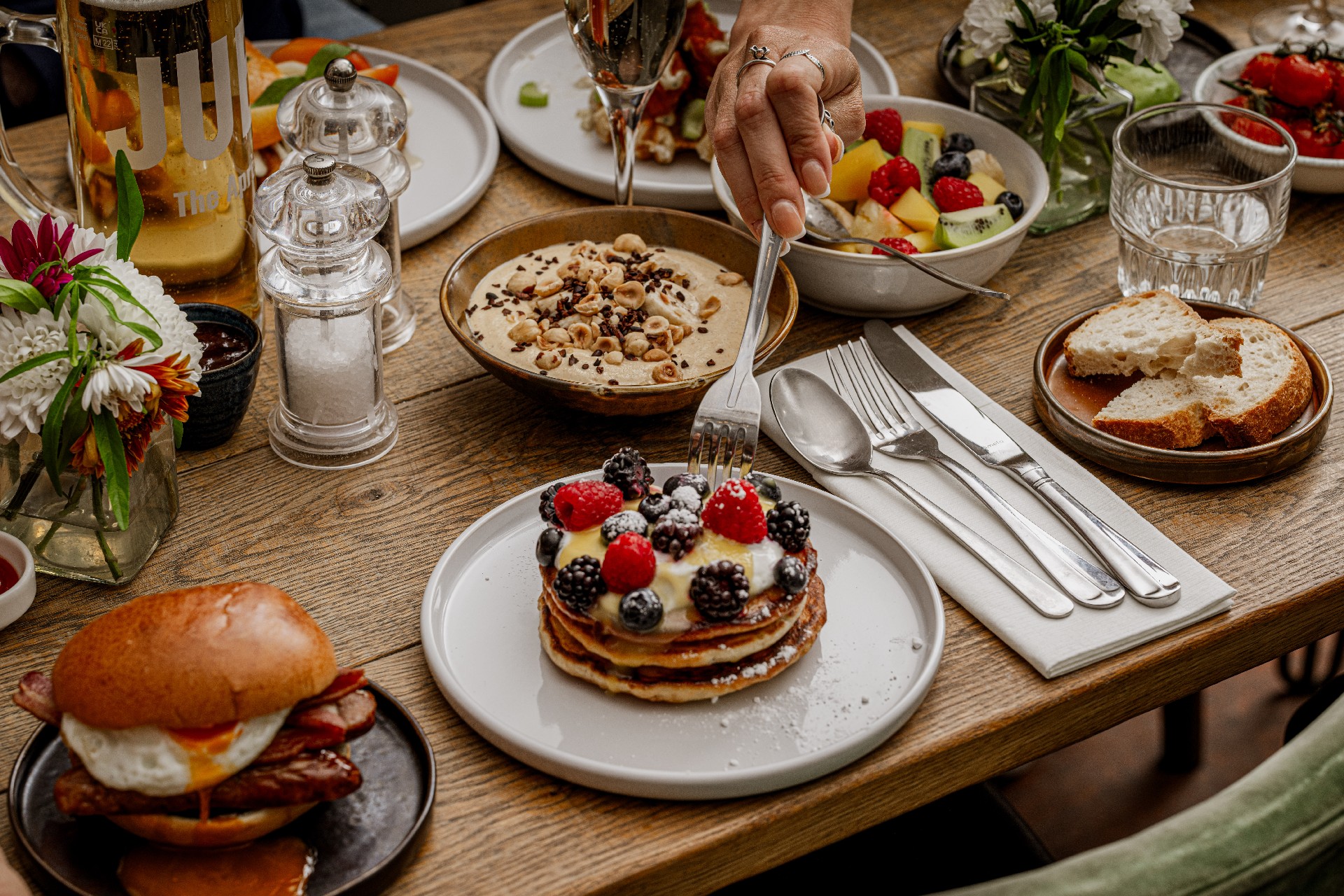 Dining
For the best breakfast, brunch, lunch, dinner, small plates and snacks in Battersea, visit us at The Old Bank bar and restaurant on Northcote Road.
Our talented chefs are dishing up all your favourites including healthy vegetarian and vegan meals – all cooked fresh by our talented chefs using the best quality locally sourced ingredients.
Our seasonal menu is bursting with healthy meals, bar snacks and indulgent puddings. Our small plates are something special – choose a range of dishes to share or get a few to taste by yourself – best served with one of our tasty cocktails.
Whether you're eating lean or treating yourself, you'll find something to sink your teeth into here at The Old Bank.
Opening Times
Opening Times
Opening Times
Day:
Opening Time
Second opening Time
Third opening Time
Monday:
12:00 - 23:00
Tuesday:
12:00 - 23:00
Wednesday:
10:00 - 23:00
Thursday:
10:00 - 23:00
Friday:
10:00 - 01:00
Saturday:
10:00 - 01:00
Sunday:
10:00 - 22:00
Food Times
Food Serving Times
Day
Opening Time
Second opening Time
Third opening Time
Monday:
12:00 - 22:00
Tuesday:
12:00 - 22:00
Wednesday:
10:00 - 22:00
Thursday:
10:00 - 22:00
Friday:
10:00 - 22:00
Saturday:
10:00 - 22:00
Sunday:
10:00 - 21:00
Seasonal Opening Times
Seasonal Opening Times
Day
Opening Time
Second opening Time
Third opening Time
Christmas Day:
Closed
Boxing Day:
12:00 - 22:00
New Years Eve:
10:00 - 02:00
New Years Day:
11:00 - 22:00
Seasonal Food Hours
Seasonal Food Serving Times
Day
Opening Time
Second opening Time
Third opening Time
26 Dec 2023
12:00 - 21:00
31 Dec 2023
10:00 - 20:00
01 Jan 2024
11:00 - 20:00